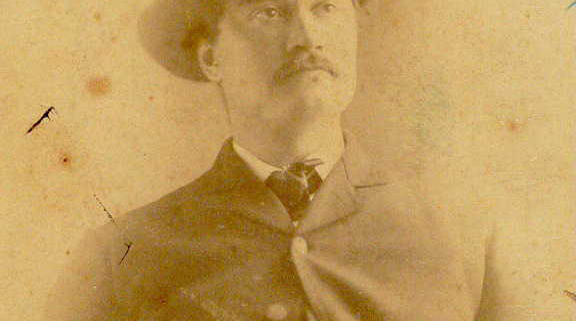 Ancestry.com
Henry J.W. (James Wakeham) Hernage
Henry J.W. (James Wakeham) Hernage
Compiled by Janice Tonz
July 2020
Today's Eagle County residents are familiar with the names Hernage Creek, Hernage Gulch, Hernage Creek Road, and Hernage Ditch.  Henry Hernage left his mark on what is now called Eagle, in spite of living in this area for only three or four years during its earliest pioneer years.
Born into a wealthy family in Nottingham, England in 1851, he was educated in London and Shoreham (near Brighton). Without receiving his degrees, he came to the United States in 1867 at age sixteen, living first in Omaha, then Dunlap Iowa.  At age 20, he made his way to Colorado, living in Boulder County for three years before arriving in Hahn's Peak (then in Grand County, now Routt County) in 1874.  There he mined and was a US postal carrier.  By 1876, he was mining in Red Cliff.
In 1881 or 1882, Henry was the first, or one of the first, settlers to file a claim and start a ranch on Brush Creek, years before the area was called "Eagle."  When O.W. Daggett settled in Gypsum in May of 1882, Hernage was one of only four settlers with ranches between Red Cliff and Glenwood Springs (the other three being Joseph Brett, Webb Frost, and John Bowman).  Since he stayed in the area for only a few years, little is known of the scope of his operation or success or failure as stockgrower and homesteader.  During that time, he ran cattle, served as a deputy sheriff in Lake and Eagle Counties, and according to O.W. Daggett, operated a roadhouse for travelers .  The Hernage cabins were a rendezvous spot along the route between eastern and western Eagle County.  Travel from Brush Creek to Dotsero was a two day trip. Hernage had one good large room for cooking and eating, and another with a large fireplace and bunks.  In winter, the floor was covered with beds that the travelers carried with them.
Webb Frost and Hernage apparently controlled vast amounts of land in the Brush Creek valley before other settlers arrived. Formal claims were recorded in Red Cliff, then the  county seat.  Several reports state that Hernage and Frost claimed land in a less formal method: they stretched a wire fence between two Cottonwood trees and hung a sign on the wire.  One side read, "I own all the land above this fence.  Webb Frost." and the other side read, "I own all the land below this fence.  H.J. Hernage."
By at least 1884, Hernage was married to Lizzie Hernage.  The England and Wales Civil Registration Marriage Index of 1878 lists the marriage of Henry James Hernage in the first quarter of that year.  However, no name was recorded for his wife.  Henry and his wife visited the Sweetwater Indian Cave (located in Garfield County but accessed through Eagle County) in August of 1884.  To this day, there remains the following inscription on the cave wall:  "H. HERNAGE + WIFE AUG 4 1884."
Tragedy struck on July 29, 1885.  Twenty four year old Lizzie drowned while herding cattle over the Eagle River.  This incident made the news in at least five newspapers around the state.  The Colorado Daily Chieftain (Pueblo) reported:  "TWO PEOPLE DROWNED.  A special to the New from Aspen says:  J.S. Swan reports the drowning in Eagle river, at Elbow canon, yesterday morning, of the partner of Henry Hernage and also the wife of the latter, by a bridge giving way."  The Silver World (Lake City, Hinsdale County) stated:  "Mrs. Harry Hernage was drowned in the Eagle river, about forty miles below Red Cliff, a few days ago.  While crossing a bridge, the second span gave way, hurling the lady and the mule she was riding into the stream.  Her body was recovered about a mile further down the stream."
Lizzie Hernage is believed to be the first person buried in Sunset View Cemetery in Eagle.  Her headstone was refurbished around 2012.  The name of Henry Hernage's partner, who perished along with his wife, is unknown.  Another pioneering family, the Nogals, used the logs from the collapsed bridge to build their first cabin.
In 1885, shortly after his wife's death, Hernage, 34, left Eagle County and returned to Routt County, settling in Egeria Park, later known as Yampa.  At that time, the little settlement on Brush Creek was known as "Castle."  The Hernage homestead claim on Brush Creek was eventually purchased by the White Family.  Thus ended Henry J.W. Hernage's time in Eagle County.  During the few years this early pioneer spent on Brush Creek, he was a major contributor in laying the foundation for what was to become the town of Eagle.
Henry remarried in Nottingham, England on December 15, 1885 to 20 year old Annie Frances Smith, and brought her back to Yampa.  One source stated he arrived with $1,000, half of which he used to purchase an unimproved homestead, and the remainder to buy stock, packed into four one-horse wagons, for a small store he then started.  He established a ranch, part of which is located on the present Yampa townsite, and the small store (the first store in southern Routt County) grew into the successful Hernage Mercantile Company.  He joined the Yampa Masonic Lodge in 1894, eventually serving as its secretary and worshipful master.  After years of informally lending money to ranchers and businessmen, in 1903 he organized the Stockman's Bank, serving as president.
Twenty years after leaving Eagle County, he was included in a 1905 book entitled "Progressive Men of Western Colorado" in which he was described as "a progressive and public-spirited citizen…one of the potential factors in the development and prosperity of Routt county."  Only one sentence in that chapter was devoted to his time on Brush Creek.
The Hernage family moved to Santa Monica, California in approximately 1910.  Annie gave birth to 11 children between 1887 and 1910.  Until at least 1913, Henry  continued to serve as president of his Yampa businesses and owned considerable property in Yampa. During his lifetime, tragedy was intertwined with success.   Between 1893 and 1898, three of their first six children died at an early age (two months, four years, and six years).  In 1913,  Henry inherited $75,000 as the sole heir of his great-great-grandfather in London, and following the death of his sister in Africa, also inherited a hotel in London.  One son committed suicide at age twenty six in 1914.
Henry J.W. Hernage, a Colorado pioneer who played an important role in the development of both Eagle and Yampa, died at age seventy-one in 1923.  He is buried in Woodlawn Cemetery, Santa Monica, California.
Sources:
Ancestry.com
Colorado historic Newspapers Collection
Progressive Men of Western Colorado, 1905
Findagrave.com
Brush Creek Memories.  Brown, Sharon; and Dana Dunbar Kamphausen.  Eagle, CO:  Manuscript, ECHS Archives, Eagle public Library, 1980.
https://eaglecountyhistoricalsociety.com/wp-content/uploads/2020/08/Henry-Hernage-Photo-from-Ancestry.jpg
640
576
Jaci Spuhler
https://eaglecountyhistoricalsociety.com/wp-content/uploads/2018/02/Eagle-County-Historical-Society-logo-2018.png
Jaci Spuhler
2020-08-04 07:23:48
2020-08-04 20:46:10
Henry J.W. (James Wakeham) Hernage